The Atlas Leadership Academy is a year-long leadership development initiative aimed at identifying, rewarding and developing Atlas' high potential managers. Each class represents a cross-section of Atlas companies and members are selected by their CEOs for their passion, performance, potential and personal commitment to deliver breakthrough results.
The ALA program develops specific skills needed to transform and strengthen businesses, improves the Atlas leadership pipeline and exposes Atlas' high potential managers to industry leaders from across the Atlas family.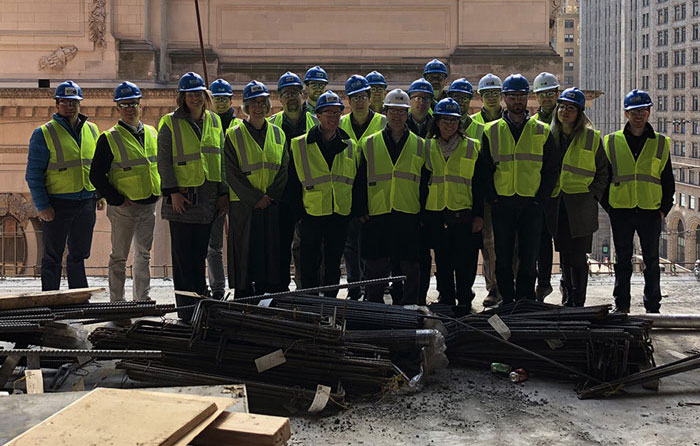 Director
Lynn Utter was appointed Director of the Atlas Leadership Academy in late 2016. From 2016 to 2018, she served as Chief Executive Officer of First Source LLC, a leading distributor and packager of specialty candies, nuts and snacks. She also served as Chairwoman of the Board of Managers of Merchants Metals LLC, formerly an Atlas portfolio company. Lynn has previously served as President and Chief Operating Officer of Knoll Office as well as the Chief Strategy Officer at Coors Brewing Company. She is a dynamic, engaged and passionate teacher of leadership skills and is a valued mentor and instructor to ALA participants.
Mission
The Atlas Leadership Academy was established in 2015 with a simple but important mission: to create a new pathway to win the 'War for Talent' by recognizing and developing our high potential managers and assisting them in becoming tomorrow's leaders. The ALA is a signature program for Atlas; it presents a unique opportunity to retain our very best talent and augment our leadership pipeline through a targeted, substantive learning experience.
Curriculum
The ALA experience offers a curriculum centered around four pillars:
(1) Getting Results;
(2) Communication/Connecting with Others and Values;
(3) Critical Thinking; and
(4) Leadership Capacity.
Sessions are designed to focus on these critical areas and feature guest mentors such as Atlas CEOs and Board Members. In addition, each class member undertakes a year-long Individual Development Project (IDP). The IDP challenges the class member to address an area in need of operational improvement that, when solved, will lead to significant value creation. This project, executed in collaboration with his or her CEO, is assessed for its ability to produce measurable and meaningful impact to the company's bottom line.
Selection Process
Each fall, Atlas company CEOs nominate worthy candidates for participation in the Atlas Leadership Academy. Criteria for nomination include the candidate's current roles and responsibilities, technical skills, notable leadership qualities, initiatives spearheaded and particular attributes that confirm the individual is a high-potential manager within the business. Nominations are reviewed by a committee of Atlas partners to select the following year's Class.
Testimonial

"The Atlas Leadership Academy is effective and I am grateful for the investment being made in my future. I'm learning and eager to implement these important leadership 'best practices,' as are the others in the class."
– John Cole | Chief Operating Officer, Veritas Steel (Class of 2017)
( since graduating from ALA John has risen from General Manager to COO)