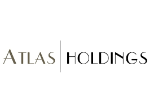 05/30/2023 | News
Atlas Holdings to Acquire Thunder Bay Mill from Resolute FP Canada Inc.
Leading Ontario Pulp and Paper Operation Joining Atlas' Global Family of Manufacturing and Distribution Businesses
GREENWICH, Conn., May 26, 2023 /PRNewswire/ – Atlas Holdings ("Atlas") and Resolute FP Canada Inc. ("Resolute") announced today the signing of a definitive agreement for an affiliate of Atlas to acquire Resolute's pulp, newsprint and directory paper mill operations ("Thunder Bay") in Thunder Bay, Ontario. The transaction is expected to close in the second half of 2023 following customary regulatory approvals.
Thunder Bay is a leading northern bleached softwood kraft and northern bleached hardwood kraft pulp, paper, newsprint and directory producer. Resolute's intention to sell Thunder Bay was announced by Resolute's owner, Paper Excellence, in October 2022.
Upon closing the transaction, Thunder Bay will operate as a standalone company and a member of Atlas' global family of manufacturing and distribution businesses, many of which are leaders in pulp, paper and adjacent industries. Atlas' first platform company, Forest Resources, was established more than two decades ago to acquire a recycled corrugating paper mill. Since then, Atlas has successfully partnered with experienced Leadership Teams to acquire, strengthen and operate a number of pulp and paper businesses, including several in Canada.
"We are extremely excited about the opportunity at Thunder Bay. Atlas is the ideal owner to take this great operation into its next chapter, as a strong and independent company. As always, we will partner with strong local leadership to strengthen Thunder Bay's operations, to serve Thunder Bay's customers in a highly responsive fashion, and to strongly support the local and regional community. We recognize Thunder Bay's historic and unique position in Ontario and the broader pulp and paper industry," said Atlas Principal Daniel Merriam.
"Many Atlas businesses are landmark companies in their regions, just as the Thunder Bay mill has been since 1919," said Atlas Partner Neil Mahajan. "We understand Thunder Bay's importance as a pillar of the local economy, and we look forward to bringing our deep experience in pulp and paper as we convert the mill into a stable, independent enterprise and build a bright future for Thunder Bay."
About Atlas Holdings
Headquartered in Greenwich, Connecticut and founded in 2002, Atlas and its affiliates own and operate 26 companies, which employ approximately 50,000 associates across more than 300 facilities worldwide. Atlas operates in sectors such as aluminum processing, automotive, building materials, capital equipment, construction services, food manufacturing and distribution, packaging, paper, power generation, printing, pulp, supply chain management and wood products. Atlas' companies together generate approximately $16 billion in revenues annually.