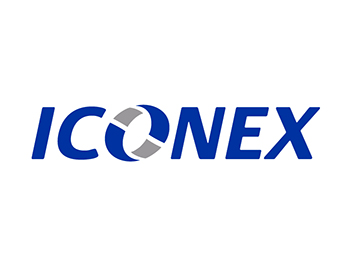 09/26/2017 | News, Project Lead the Way News
Iconex, Duluth High School partner to offer enhanced engineering opportunities to students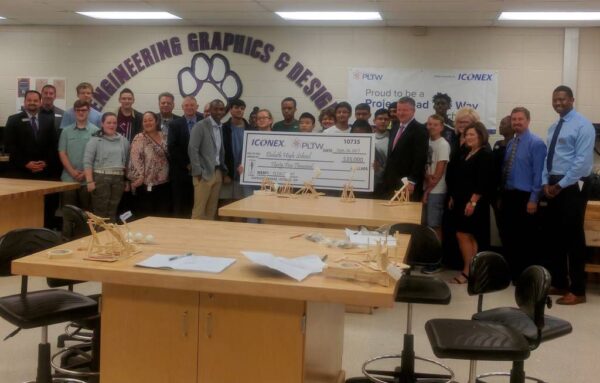 A local manufacturing company has committed to a partnership meant to strengthen Duluth High School's already decorated engineering program.
"This is really a big deal for our school for several reasons," said Duluth High School Principal Anthony Smith. "We're very proud of some of the work we are doing, but partnerships with our community help us ensure that our students are having a world-class experience."
On Tuesday, Duluth-based Iconex presented school officials with a grant for $35,000 to help the engineering program beef up its equipment and teacher training as it continues to roll out its new Project Lead the Way curriculum, a relatively new approach to teaching all its Career Technical Education programs.
"It's basically a project-based learning curriculum where the science and the math is built in and the kids are learning in a hands-on environment," said Duluth High's lead engineering teacher Jonathan Roy.
The PTW curriculum has three different levels that students must move through in order to complete their "path" in engineering — foundations of engineering, engineering concepts and engineering applications. The projects the students complete become more complex with each level.
So far, Duluth High has rolled out foundations of engineering and engineering concepts. Roy estimates it could take two or three more years before the school is ready to roll out engineering applications. It will also take more teacher training and advanced robotics equipment.
That's where Iconex's monetary contribution comes in. But the Iconex Vice President of People Operations Jonathan Collier said the company intends to invest more than money in Duluth High's evolving engineering program. He said Iconex will regularly present to students or bring them to their manufacturing facilities so they can get a feel for the careers they're training for.
Collier said Iconex is even looking into allowing classes to complete small portions of projects their engineers are working on.
"We recognize that STEM and STEAM are very important," Collier said. "We have manufacturing jobs we want to show and expose everyone to those manufacturing jobs to get them excited about opportunities in the future."
That partnership is designed to benefit Iconex as much as it is Duluth High's students, said Iconex CEO Craig Gunckel.
"One of the challenges, not just facing Iconex, but anybody in the manufacturing space, is that there aren't a lot of young folks that are coming the industry," Gunckel said. "So there's a real need for people to be excited about manufacturing and there's a real lack of people who have the desire and the actual skill set to come into these jobs."
On Tuesday, Gunckel toured Duluth High School's engineering lab and meant with some of the students already beginning on their engineering "path" under the new curriculum. He said he was already encouraged by the excitement he saw in those kids.
Three freshmen working on a catapult project caught Gunckel's attention in particular.
"First of all, they were excited and having fun," Gunckel said. "The thought process was really using science and math."
He said one of the students talked to him about kinetic energy and how they could utilize it to help with their project.
"I don't remember as a freshman in high school having conversations about kinetic energy," Gunckel said. "And they were excited about it."
He said that made him feel good about Iconex's partnership with the high school. Duluth school officials are excited about that partnership, too.
"This is great for us. We have a community that's proud of their school and for good reason," Smith said. "Our students are accomplishing some amazing things. Industry partnerships, high-quailty professional development and other things of this nature help us ensure that our students get a world-class experience."