11/23/2016 | News, Project Lead the Way News
Injection molder Amaray helps bring STEM-based learning to middle school
You can't make America great again without a highly skilled workforce. As baby boomers enter their golden years and the U.S. economy continues to expand, perhaps heightened by manufacturing jobs returning to the United States, if promises are kept, as many as 3.5 million of those positions will need to be filled during the next decade, according to a recent survey conducted by Proto Labs. "An estimated two million of those jobs could go unfilled," stated the report, because of a disconnect between the skills needed by advanced manufacturing companies and the abilities of incoming workers. Plastics processors are well aware of this looming crisis, many of whom actively support academic programs that provide instruction in science, technology, engineering and mathematics (STEM) disciplines. A recent example comes from plastic injection molding company Amaray (Elizabethtown, KY) in support of Project Lead the Way (PLTW) at a local middle school.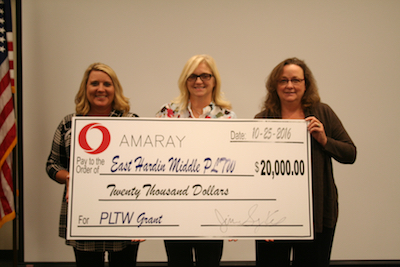 PLTW is a nonprofit organization that provides kindergarten through 12th-grade students and teachers across the United States with pathways in engineering, computer science and biomedical science. The students learn problem-solving strategies, critical and creative thinking and how to communicate and collaborate through hands-on learning and activities that reflect real-world scenarios and careers. East Hardin Middle School in Glendale, KY, has joined more than 9,000 schools across the United States in offering PLTW programs to its students thanks to a $20,000 grant funded by Amaray's Elizabethtown business.
"Companies like Amaray, and those across the manufacturing sector, require a unique set of skills," said Jim Sykes, CEO of Amaray. "Science, technology, engineering and math are where the jobs are today, and where more and more of the opportunities will be tomorrow. The PLTW curriculum inspires students to seize these opportunities by embracing the very subjects, and pursuing the very careers, that will be the heart of our economy well into the future. This new grant we're providing to East Hardin Middle School allows us to enhance many young minds and help shape that future right here in Glendale," said Sykes.
Amaray's participation in this project represents a new model of corporate partnership, according to Sykes. More than a donation, it is fostering the direct engagement of Amaray's leaders and associates in each aspect of the initiative. These efforts include direct fundraising to help support the grant, creating unique hands-on learning opportunities via visits to the company's facility, participating in school-wide events and the development of a soon-to-be-formed PLTW/Amaray School Partnership Team, which will mentor students, liaise with local officials, identify professional development opportunities and provide supplies for the classroom.
Funds from the grant will be used specifically to start a PLTW Gateway program at the school, which will cover expenses such as annual fees, professional development programs for teachers, and classroom equipment and materials.
PLTW's Gateway curriculum is designed for students in sixth through eighth grades. By tackling challenges such as designing tires for a moon rover, cleaning up an oil spill